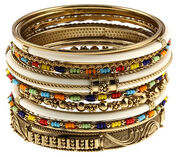 A bracelet is a loop of material, such as a strap or chain, that is intended to be worn around the wrist or forearm, without being attached to clothing. Sometimes, it is a combination of joined or interlocking loops. Frequently, it is made in a decorative style, and is worn as jewellery. It may have a supportive function, such as holding a wristwatch or other items of jewellery such as religious symbols or charms. Medical and identity information is marked on some bracelets, such as allergy bracelets, hospital patient-identification tags, and bracelet tags for newborn babies. If a bracelet is a single, inflexible loop, it is often called a bangle. When it is worn around the ankle it is called an ankle bracelet or anklet. A boot bracelet is used to decorate boots. Colloquially, handcuffs are sometimes called bracelets. Bracelets can be manufactured from metal, leather, cloth, plastic or other materials and sometimes contain jewels, rocks, wood, shells, crystals, metal or plastic hoops, pearls and many more materials.
Ad blocker interference detected!
Wikia is a free-to-use site that makes money from advertising. We have a modified experience for viewers using ad blockers

Wikia is not accessible if you've made further modifications. Remove the custom ad blocker rule(s) and the page will load as expected.