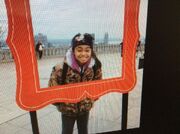 Gold jacket is a medium gold brown jacket, Chloe is wearing during Warm Woods are the purple trees they along with Bradly, Anika, Kermit the Frog, Kirby, Chloe, Daria, Dragonite, Krokorok, Sonic the Hedgehog and Waffle.
This gold jacket from the mount royal, Chloe wears your for the Warm Woods with friends, Chloe is wearing Infernape's hat and Alakazam's scarf around his neck.
Ad blocker interference detected!
Wikia is a free-to-use site that makes money from advertising. We have a modified experience for viewers using ad blockers

Wikia is not accessible if you've made further modifications. Remove the custom ad blocker rule(s) and the page will load as expected.