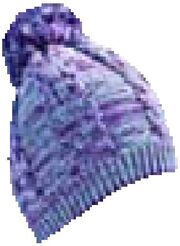 Hat is a Medium-sized purple x bluish-green hat, This is still foggy outside effect Anika use your Reseeda jacket and put his hat and your hood on to and pull the elastic drawstring and zip your jacket up and velcro to as a helmet then put your scarf and gloves on and get warm like the moose during hunting in the woods.
Ad blocker interference detected!
Wikia is a free-to-use site that makes money from advertising. We have a modified experience for viewers using ad blockers

Wikia is not accessible if you've made further modifications. Remove the custom ad blocker rule(s) and the page will load as expected.