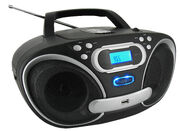 Music radio is a radio format in which music is the main broadcast content. After television replaced old time radio's dramatic content, music formats became dominant in many countries. Radio drama and comedy continue, often on public radio.
Music drives radio technology, including wide-band FM and modern digital radio systems such as Digital Radio Mondiale.
Ad blocker interference detected!
Wikia is a free-to-use site that makes money from advertising. We have a modified experience for viewers using ad blockers

Wikia is not accessible if you've made further modifications. Remove the custom ad blocker rule(s) and the page will load as expected.