Thermal insulation4°C comfort, -1°C limit temp. (EU test). Ergonomic collar, anti-cold zip.
Low weight / lightweight1710g in Size M, 1860g in Size L, 2060g in Size XL. Compact designCover: about 24cm x 41cm and 18.5 litres. Highly compressible mattress. Freedom of movementVariable thickness mattress (3.8cm to 2.5cm) and optimised width (57cm max).
Ease of useZip at feet. Waterproof fabric at contact zones. Self-inflating mattress. Anatomic designVariable-thickness self-inflating mattress that suits all sleeping positions.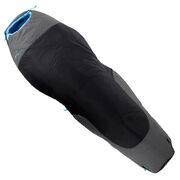 Ad blocker interference detected!
Wikia is a free-to-use site that makes money from advertising. We have a modified experience for viewers using ad blockers

Wikia is not accessible if you've made further modifications. Remove the custom ad blocker rule(s) and the page will load as expected.